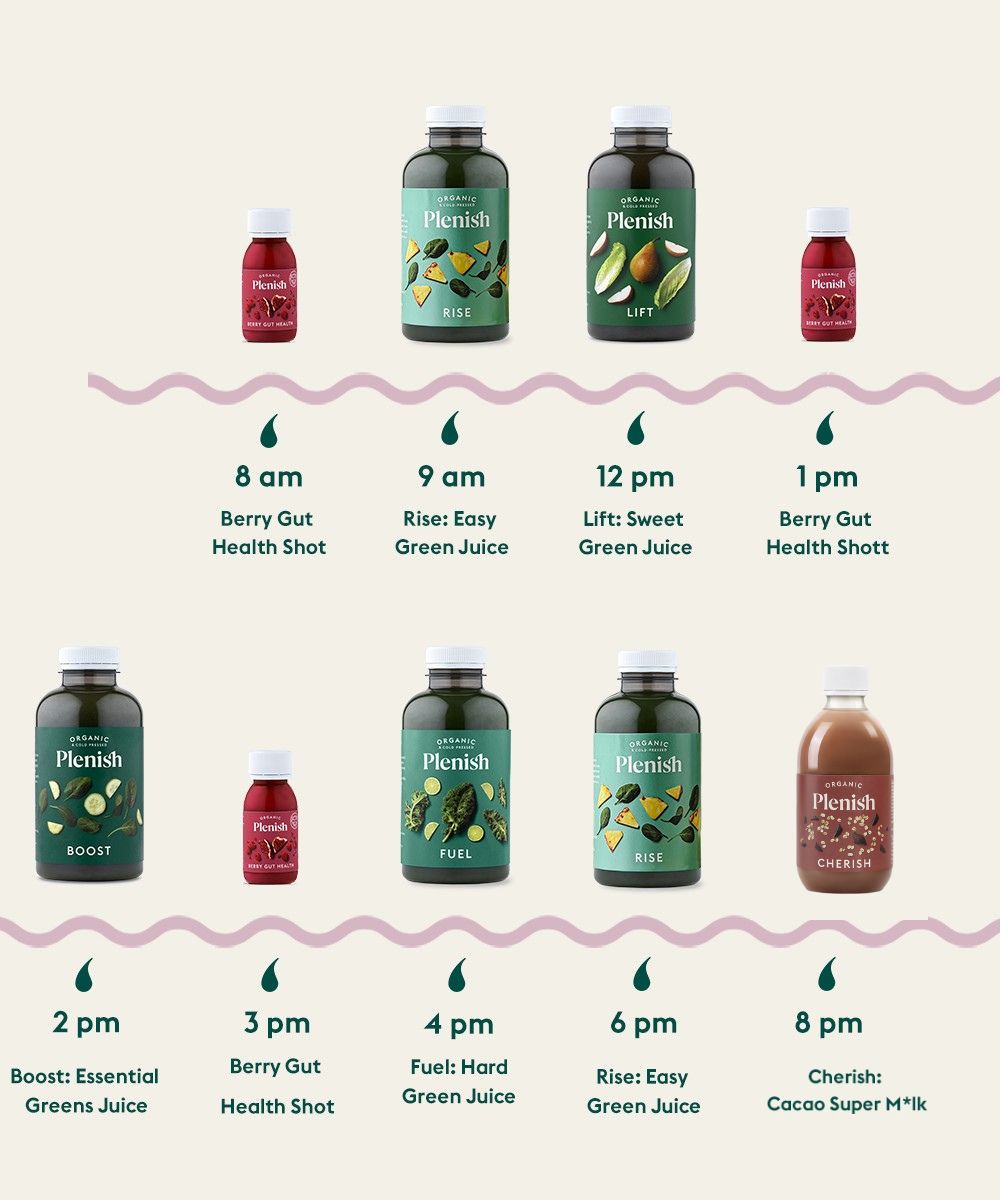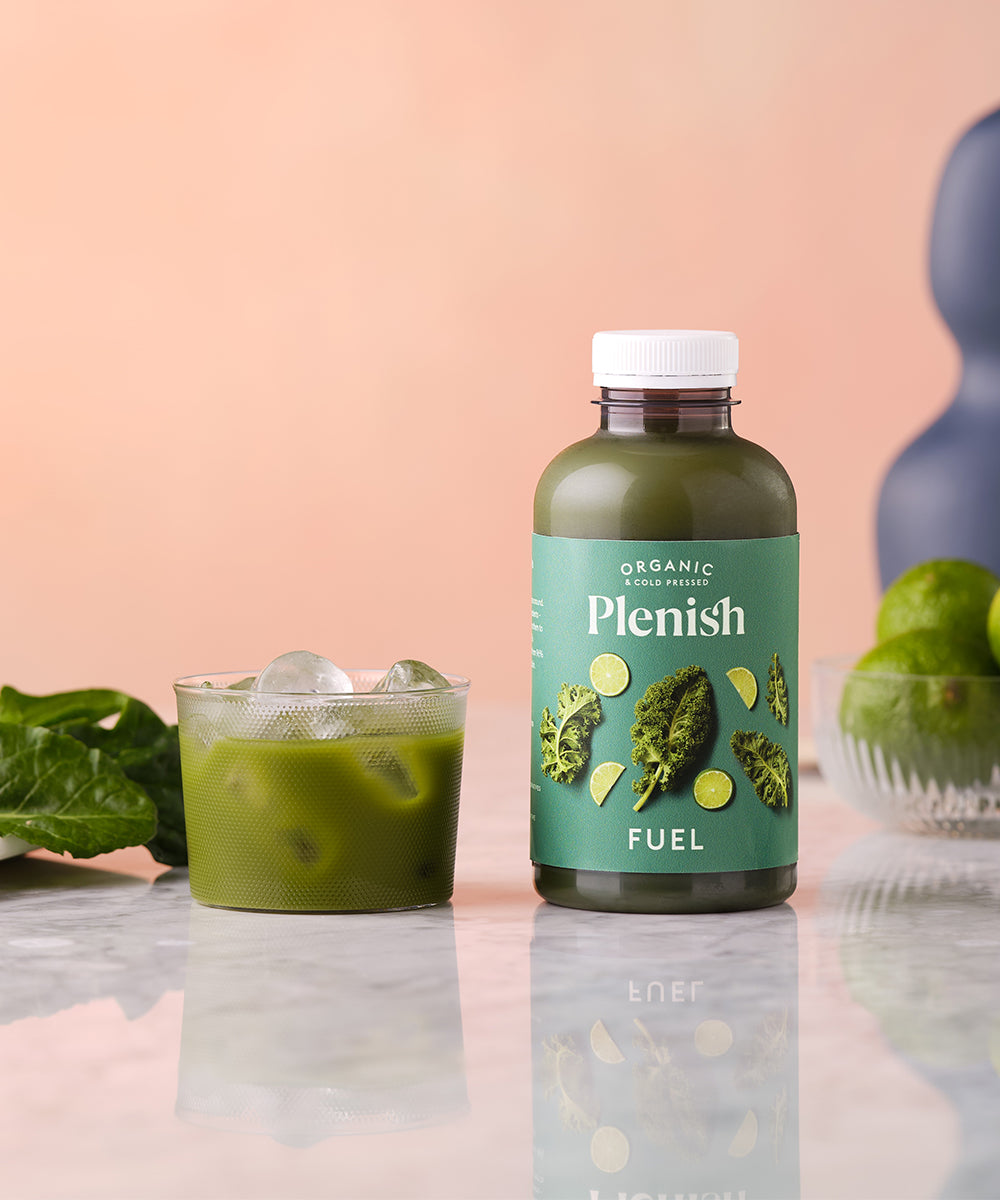 Happy Gut Cleanse - 4 Day
With millions of live bacteria, 100% of your daily fibre intake and 16 fruit & veg, this cleanse is the perfect way to kickstart your way to gut health.
Subscribe to your favourite Plenish products and enjoy 10% off PLUS free delivery on every order. Amend, or cancel your subscription at any time in your account area.
We've partnered with ClearPay to split your purchase into four easy instalments. Shop now. Pay later.
Free delivery when you spend over £65 or when you create a subscription. Otherwise, it's £6.95.
Product Details
Our nutritionist curated cleanse is the perfect way to kickstart your way to gut health. Our gut health cleanse is packed with millions of live bacteria and provides over 100% of your daily fibre which can help support your gut health and digestion. 6 x 500ml juice per day. 1 x 60ml shots per day. 1 x Plenish branded sipping system.
Certified 100% organic ingredients.
100% recycled bottles (excluding cap and label)
No additives or preservatives.
ALLERGEN INFORMATION: All our products are produced in a facility that handles nuts and celery. Please see individual product pages for specific product information.
Our cleanse programmes are not recommended for children, adolescents, pregnant or lactating women, elderly individuals, or those suffering from a medical condition without the advice of a healthcare professional. It is important that you maintain an adequate daily fluid intake during your cleanse programme. The cleanse must only be followed as per our advice. If you feel unwell during the cleanse, you must stop immediately and contact a healthcare professional if side-effects persist You should not consume any alcohol throughout the duration of your cleanse.
Key Features
Pre-cleanse
In the three days leading up to your cleanse, remove any stimulants such as sugar, caffeine, alcohol and dairy to make the transition as easy as possible. It can be hard to go out for dinner and drinks when you're cleansing so it's best to clear your schedule or book in your cleanse across days you're free. Your day to day will be fine (you might have even more time than usual with your new found energy) but this will help you stick to your cleanse schedule.
Cleanse schedule
This is a suggested plan but listen to your body and lifestyle to make it work best for you.
6AM Hot water with lemon
8AM Berry Gut Health Shot
9AM Rise
12PM Lift
1PM Berry Gut Health Shot
2PM Boost
3PM Berry Gut Health Shot
4PM Fuel
6PM Rise
8PM Cherish OR Pump depending on what you received as part of your cleanse
10PM Listen to your body. If you're tired have an early night and you'll wake up feeling fresh.
Make sure that you're drinking a glass of water between each juice. Get outside for some fresh air and a walk around the block. Getting your blood flowing can help beat midday fatigue.
Post Cleanse
When you've put only good stuff in, your body thanks you for it by feeling brighter and more energised. It's common our cleansers want to keep this feeling going. Wake up your digestive system slowly. A light breakfast like overnight oats will ease you back in much better than a full English breakfast.