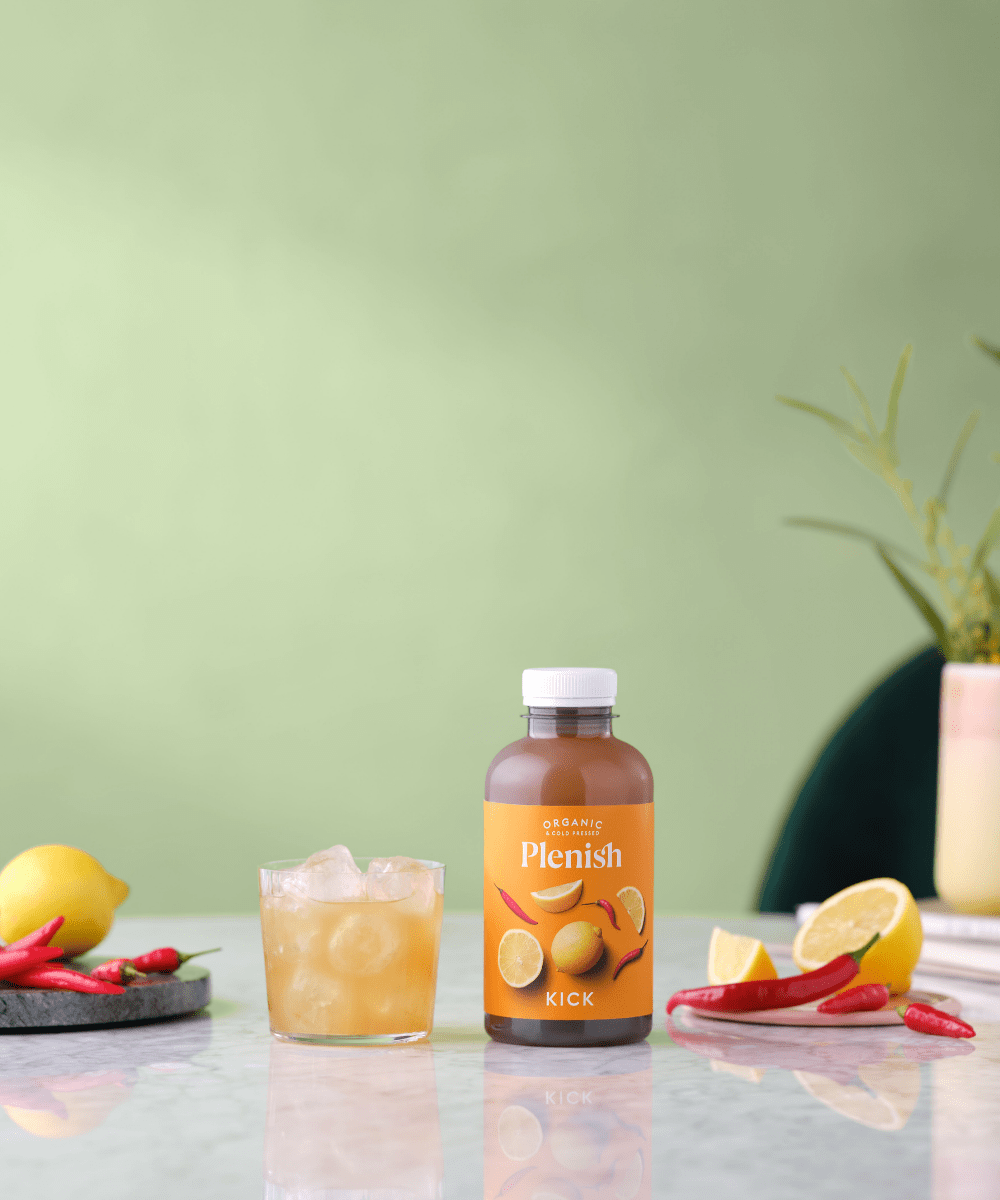 Kick: Spicy Lemonade 500ml
We press for perfection. Made from the finest organic ingredients - our spicy lemonade is full of zesty citrus, balanced with sweet coconut nectar and a spicy hit of chillies.
Subscribe to your favourite Plenish products and enjoy 10% off PLUS free delivery on every order. Amend, or cancel your subscription at any time in your account area.
We've partnered with ClearPay to split your purchase into four easy instalments. Shop now. Pay later.
Free delivery when you spend over £65 or when you create a subscription. Otherwise, it's £6.95.
What's Inside?
Filtered Water
Lemon
We select the best, sunkissed organic lemons to create a zesty background flavour to our juices & shots.
Lime
Lively, zesty and packed with citrusy flavour.
Coconut Nectar
A delicious, natural sweetener and delicate flavour of coconut.
Red chilli
Our chillies provide a light fiery background flavour. Capsaicin, the compound found in chillies is responsible for the hot flavour profile.
Cayenne pepper
Spicy and fiery thanks to the capsaicin which is an active component of the chilli pepper
Acerola cherry
High in vitamin C, this tangy little hero can help to support your immunity and adds a citrusy flavour.
It's all good. Letting ingredients be is a luxury that comes only to those who invest in the most flavoursome organic fruit and vegetables. Luckily for you, that's us. This refreshingly fiery juice drink is pressed from the finest lemons and chillies – so that you get an instant boost of goodness, utterly un-meddled with.
– Certified organic ingredients
– 100% recycled bottle (cap and label excluded)
– No additives or preservatives
Refreshing citrus subtle sweetness and a spicy kick.
Our juices will have a minimum of 6 days shelf life when they reach you.
It's fresh, so keep it well chilled and give it a good shake before drinking.
Enjoy daily as part of your normal diet or use it as part of a Juice Cleanse or 5:2 programme. 
The energiser. Our Kick Spicy Lemonade contains 30mg of your daily vitamin C per 100ml. Vitamin C is a powerhouse for the body and helps support a healthy immune system.
LEGAL NAME: Organic Chilli, Lemon, Coconut Nectar and Lime Juice Drink.
INGREDIENT LIST: Filtered water 84%, Lemon Juice* 9%, Lime Juice* 3%, Coconut Nectar* 3%, Red Chilli* 1%, Acerola Cherry Powder*, *Organic
ALLERGEN STATEMENT: Produced in a facility that handles nuts and celery.
STORAGE: Keep refrigerated 0-4°C. Once opened consume within 24 hours.
USAGE: Consume as part of a balanced diet and healthy lifestyle.
RI = Reference Intake Reference Intake of an average adult (8400kJ/2000kcal)
Key Features
Nutritional Values
| Nutrition | Per 100ml | RI% | Per 250ml | Per 500ml |
| --- | --- | --- | --- | --- |
| Energy (Kcal) | 14 | | | |
| kJ | 57 | | | |
| Fat (g) | 0 | | | |
| of which saturates (g) | 0 | | | |
| Carbohydrates (g) | 3.2 | | | |
| of which sugars (g) | 2.9 | | | |
| Protein (g) | 0.2 | | | |
| Salt (g) | 0 | | | |
| Vitamin C (mg) | 30 | 38% | | |