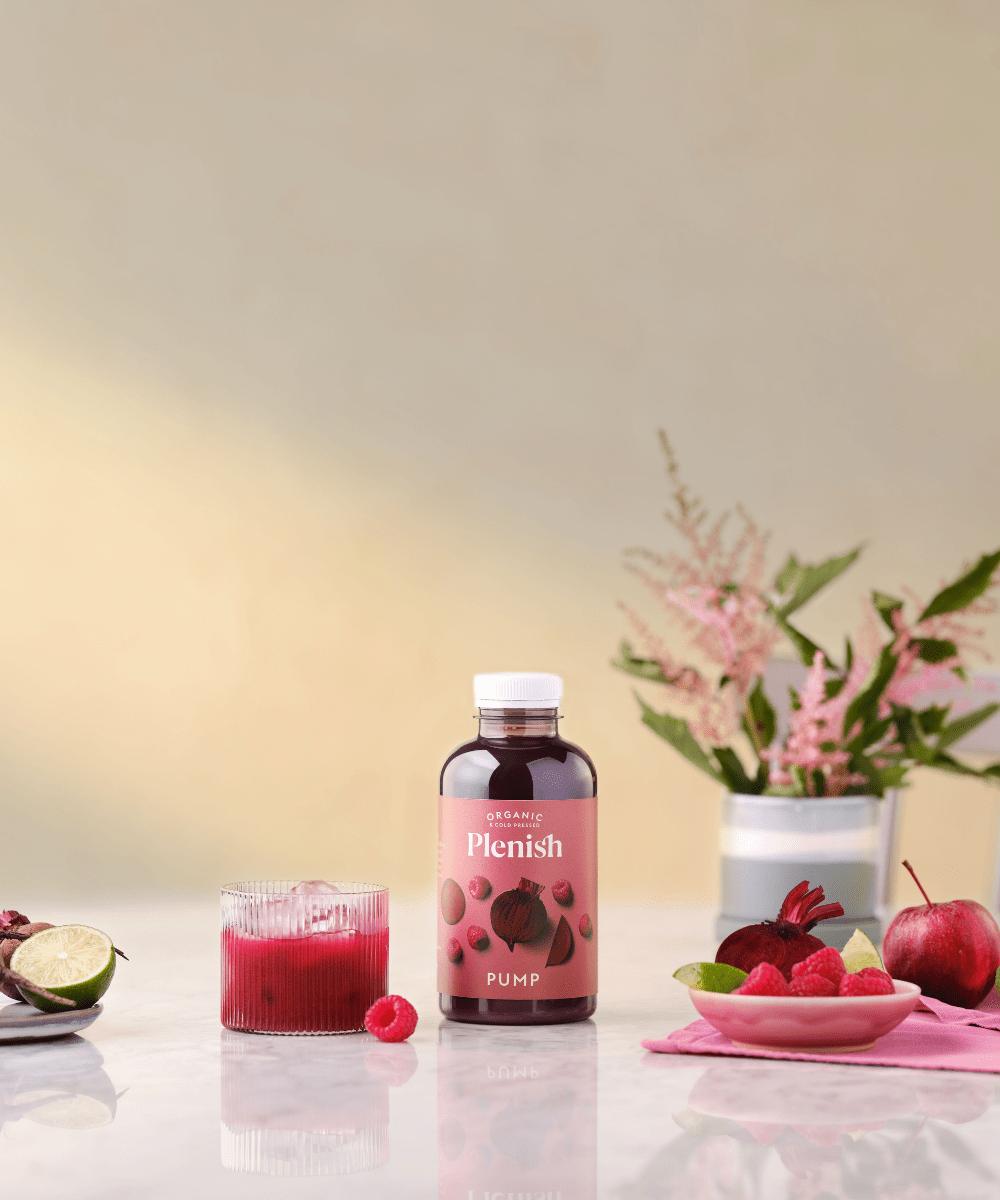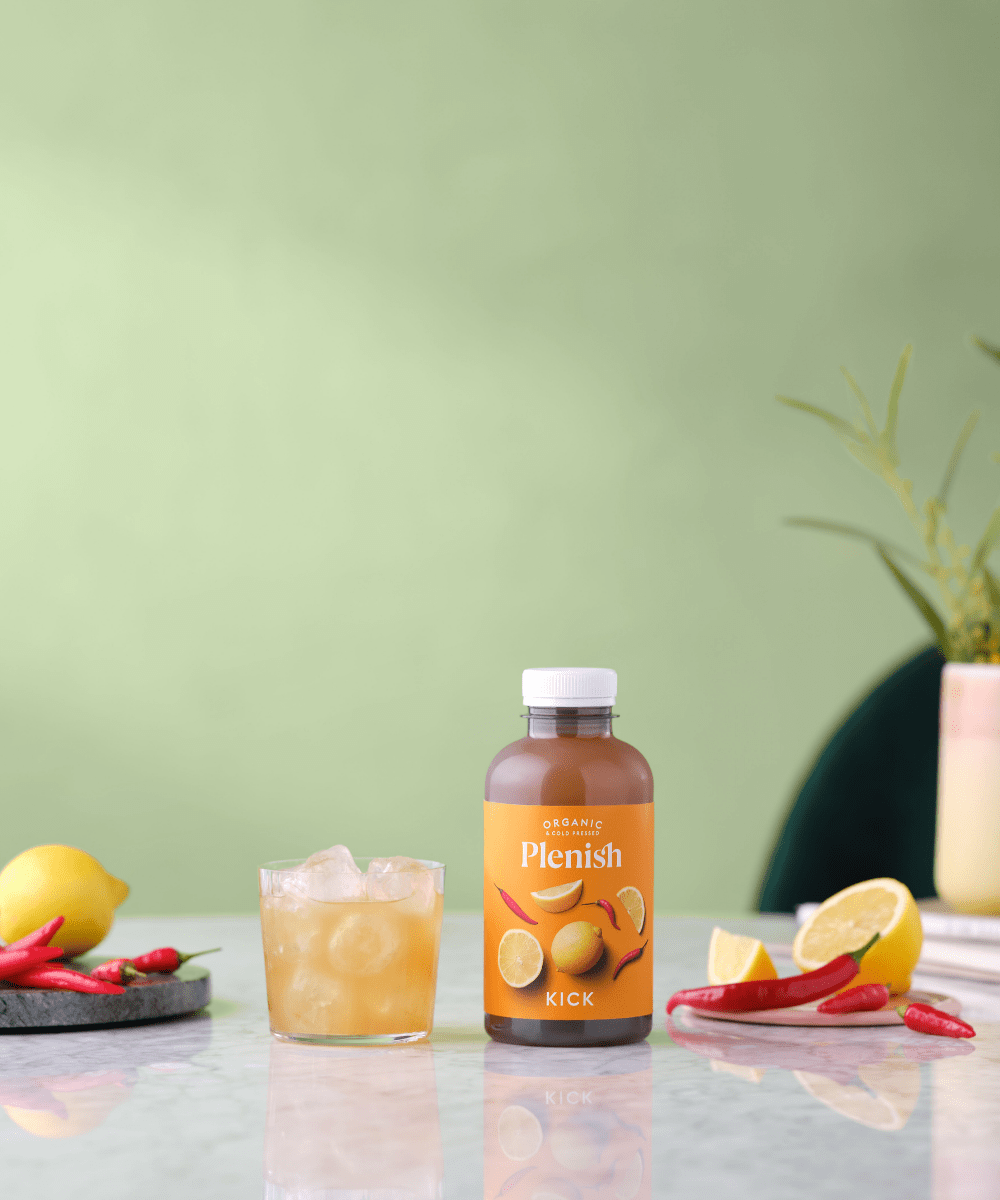 Beginner Protein Cleanse - 5 Day
Start as you mean to go on: this gentle juice plan with protein is the perfect introduction to cleansing, with a wide choice of flavours and nutrients to ease in beginners. You'll receive four cold-pressed juices, one spicy lemonade and one protein shake per day, all made with 100% organic vegetables and fruit. Now from just £45 per day, nothing could be simpler.

Subscribe to your favourite Plenish products and enjoy 10% off PLUS free delivery on every order. Amend, or cancel your subscription at any time in your account area.
We've partnered with ClearPay to split your purchase into four easy instalments. Shop now. Pay later.
Free delivery when you spend over £65 or when you create a subscription. Otherwise, it's £6.95.
Product Details
Our Beginner Cleanse was designed for first timers. With six cold-pressed juices per day, it's our gentlest option for those looking to start juice cleansing. It's made up of five 500ml bottles of vegetable and fruit juices per day + one Salted Caramel protein shake in partnership with Form Nutrition, which will leave you in a calorie deficit. Each cleanse arrives with a manual to guide you through the process and a Plenish glass straw for smooth sipping without single-use plastic.
Calories per day: 1000
– Certified organic ingredients
– Recyclable, and 100% recycled bottles (excluding cap & label)
– No additives or preservatives
– Certified carbon negative
ALLERGEN INFORMATION: All our products are produced in a facility that handles nuts and celery. Please see individual product pages for specific product information.
When your delivery arrives place your juices and m*lks in the fridge to keep chilled. Follow the schedule and when it's time for a juice, shake it up before enjoying with your Plenish glass straw. Natural separation can occur which is why a vigorous shake is to important, this is a good sign we're 100% natural and don't contain any stabilisers or additives. When it's time for a protein shake, simply add a protein sachet to your shaker with 300ml of the milk supplied and shake (top tip – try playing with the volume of milk added to get your perfect consistency – if you prefer a thicker shake, add less milk and vice versa!).
We are plant-based pioneers. As the UK's first cleanse business, Plenish has over a decade of experience in crafting the finest cold-pressed juices. Our 100% organic, nutrient-rich, vegetable-based juices offer an easy way to reboot your health kick.
– 100% organic
– Delivered direct to your door
– Built on 10 years of experience
Form started with a simple belief; that you can realise the greatest version of yourself whilst being mindful of others. And that message permeates everything they do. They craft plant-based proteins for your body and responsibly-sourced nootropics for your brain. Backed by science, their products are designed with your optimal performance in mind. They believe business should be a force for good, meaning they are good for you and good for others too. Proudly B Corp, we couldn't be happier to partner with Form for the future.
Protein is an essential part of any well-balanced, healthy eating plan and an important source of energy for everyone. Consuming protein can help keep your body functioning properly and help you maintain a healthy energy level throughout the day. Protein is essential for all women, and it's vitally important as we age. A protein shake can have many benefits for women as it's an easy and convenient way to help you towards your daily protein target.
We count the calories so you can stick to sipping. Our juice programmes are designed to pack as much nutritious, organic fruit and vegetables as possible into your cleanse, while delivering very specific calorie counts. Each plan is made up of our immunity-supporting juices- thanks to Vitamin A + C content. So you can sip back and relax.
When it comes to sustainability, we strive to stay ahead of the pack. All our bottles are made of 100% recycled plastic bottles (excluding cap and label) and our boxes are made from sustainably-sourced, recyclable cardboard. Our ice-packs are also recyclable: pour the liquid down the drain, and recycle the plastic casing.
Our cleanse programmes are not recommended for children, adolescents, pregnant or lactating women, elderly individuals, or those suffering from a medical condition without the advice of a healthcare professional. It is important that you maintain an adequate daily fluid intake during your cleanse programme. The cleanse must only be followed as per our advice. If you feel unwell during the cleanse, you must stop immediately and contact a healthcare professional if side-effects persist You should not consume any alcohol throughout the duration of your cleanse.
Key Features
Pre-cleanse
In the lead up to your cleanse, remove any stimulants such as sugar, caffeine, alcohol and dairy to make the transition as easy as possible. We recommend doing this for 3 days prior to your first cleanse day. We also recommend clearing your calendar. Socialising can be difficult when cleansing, so pick a time with minimal temptation.
Cleanse schedule
This is a suggested plan but listen to your body and lifestyle to make it work best for you.
8am – Lift Sweet Green Juice
10am – Shield Immunity Juice
12pm – Boost Essential Greens Juice
2pm – Kick Spicy Lemonade
4pm – Pump Cherry Beets Juice
8pm – Form Nutrition Salted Caramel Protein Shake (made with Plenish Oat M*lk!)
Post-cleanse
The morning after your last cleanse day, ease yourself back into solid foods with a plant packed breakfast. You'll feel lighter and more energised after your full cleanse, and mindfully reintroducing food groups is key to maintaining that feeling. Follow-up your cleanse with our 5:2 programme.